Wash Press Compactor WPC
Modern construction from robust certified stainless high quality materials.
Double trough gives high torque resistance and maximum dewatering capability.
The double trough allows for long inlet lengths. Saving additional conveyors. And
enables optimum perforation area of the inner trough for high dewatering and good drainage.
Robust wear steel lined screw and thick wear bars gives wear resistance and handles high compaction forces.
Separate thrust bearing and flexible coupling compensates for screw angle variations and absorbes press forces protecting the gearbox.
Compact design with selectable drive unit gives flexibility.
Enclosed, safe & hygienic with easy to open access doors.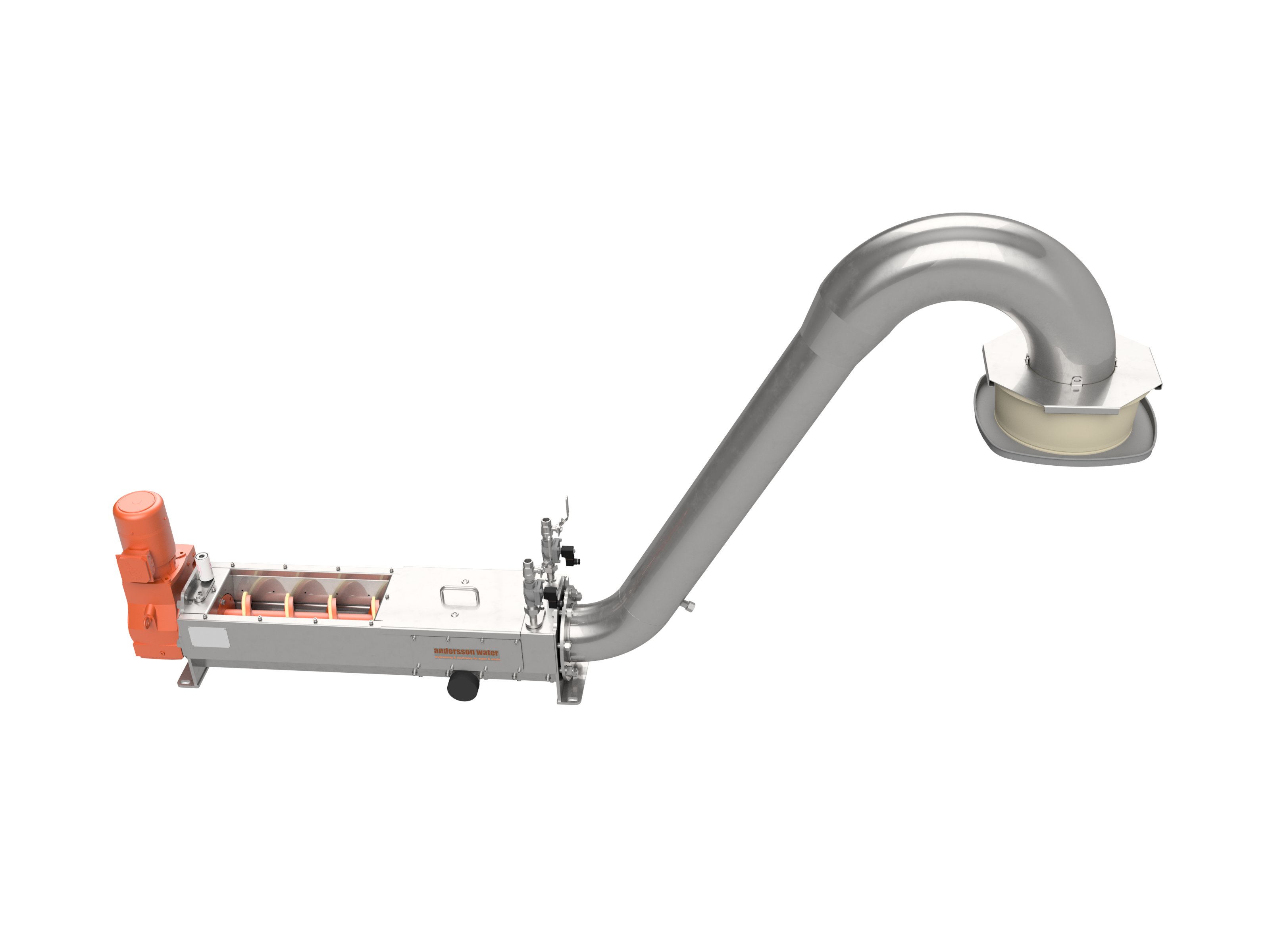 Wash Press Compactor WPC is a screw press for washing, compaction och conveying of screenings and wet waste. WPC forces the material into a pipe system and can be combined with Back Pressure Shredder BPS which gives heavy mechanical agitation for high washing, compaction and dewatering. The screw flights gives a pulsating treatment of smaller portions which also increases washing, dewatering, & compaction. WPC has 15-30mm screw flight thickness in the transport zone and 30-60mm in the wash compaction zone. WPC often has double the thickness, strength and wear capabilities compared with others. We recommend spiral wound steel screw rather segment welded stainless flights due to double thickness and much higher wear resistance. WPC has stainless steel high quality valves as standard where others use brass.
Specifications
Height 300-600mm
Diameter 150-400mm
Capacity 0.5–10m3/h
Dry solids 40-60%
Gallery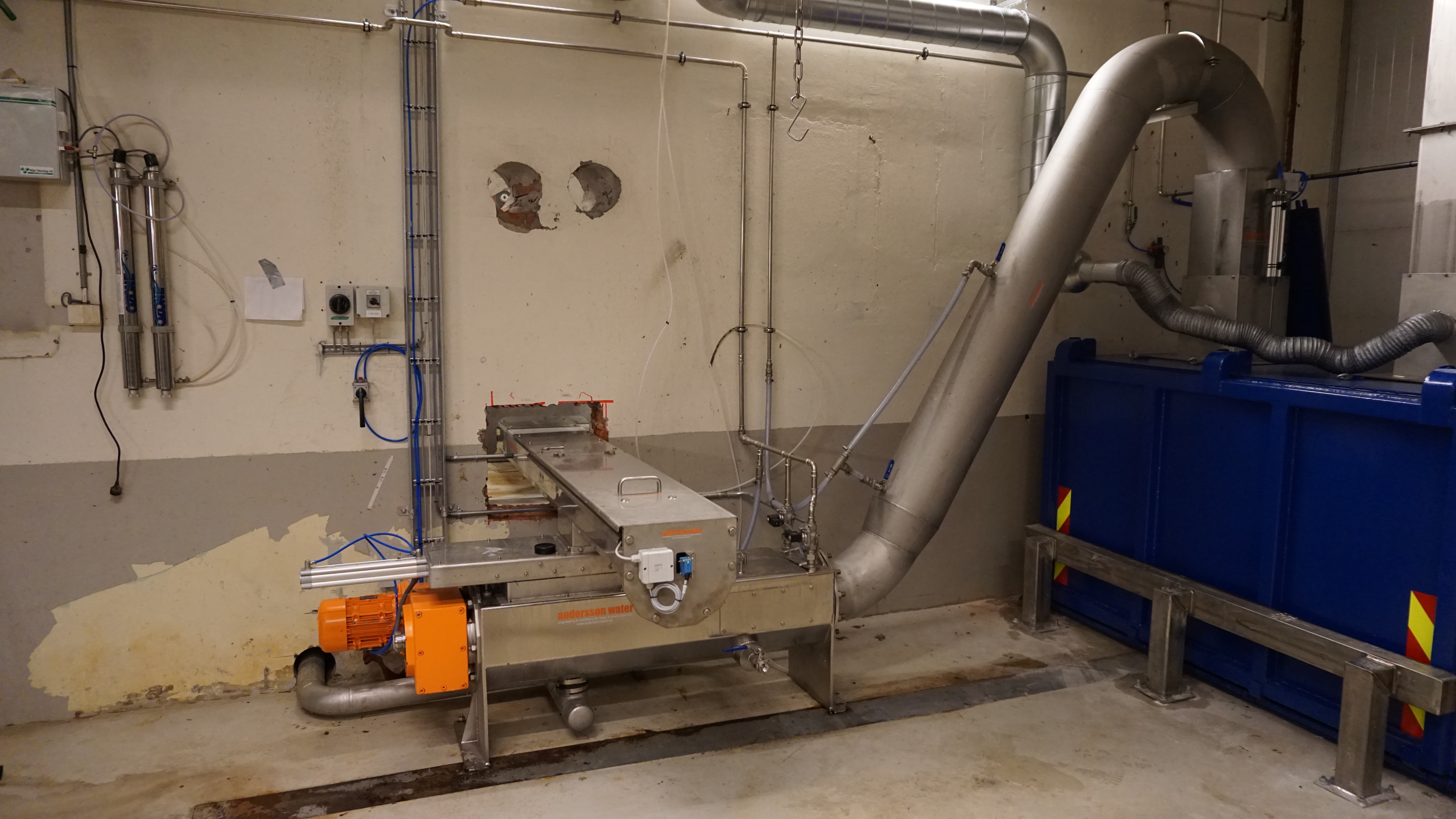 Wash Press Compactor WPC. Spiral Screw Conveyor SSC. 60 deg standpipe to sealed ventilated container for 35-45%DS. Optional to Back Pressure Shredder BPS for 45-55%DS and highly increased washing and operation flexibility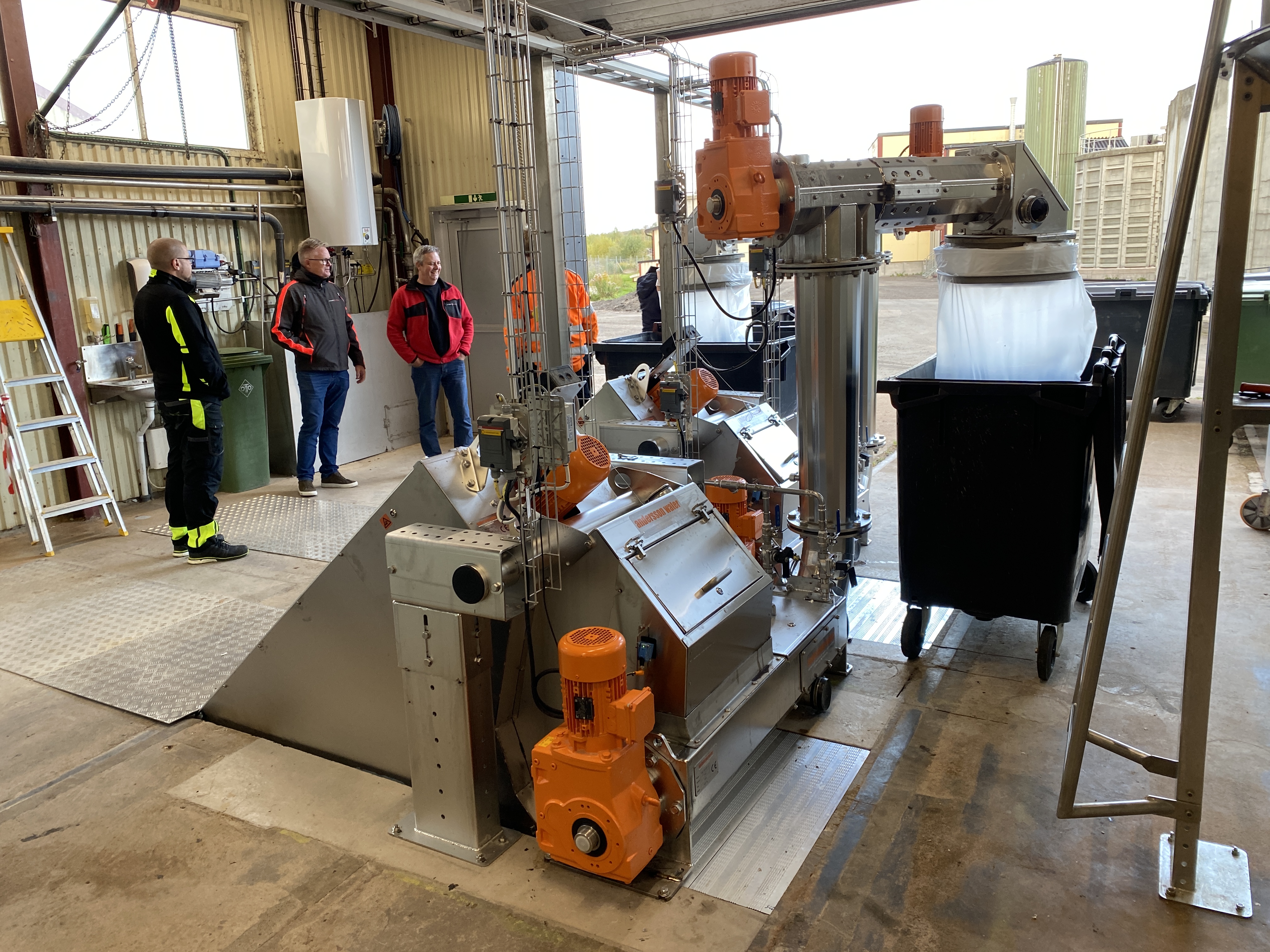 Progressive Stair Screen PSS discharging to Wash Press Compactor WPC with Back Pressure Shredder BPS. Andersson machines are acid pickle passivated with electropolish as option.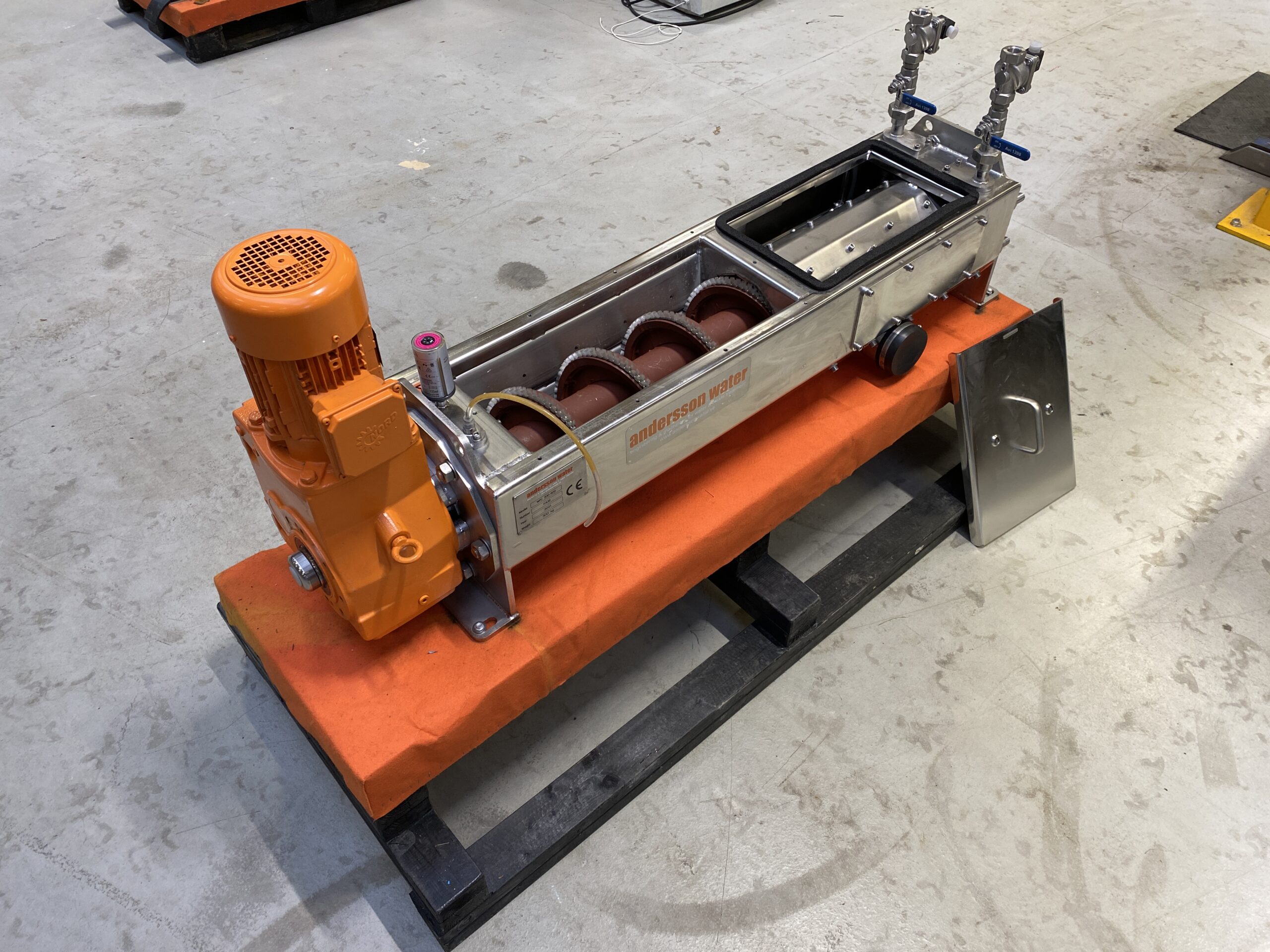 Andersson machines are pickled passivated followed by optional bath electropolishing. The superior treatment of stainless steel. High quality >90% efficiency gearboxes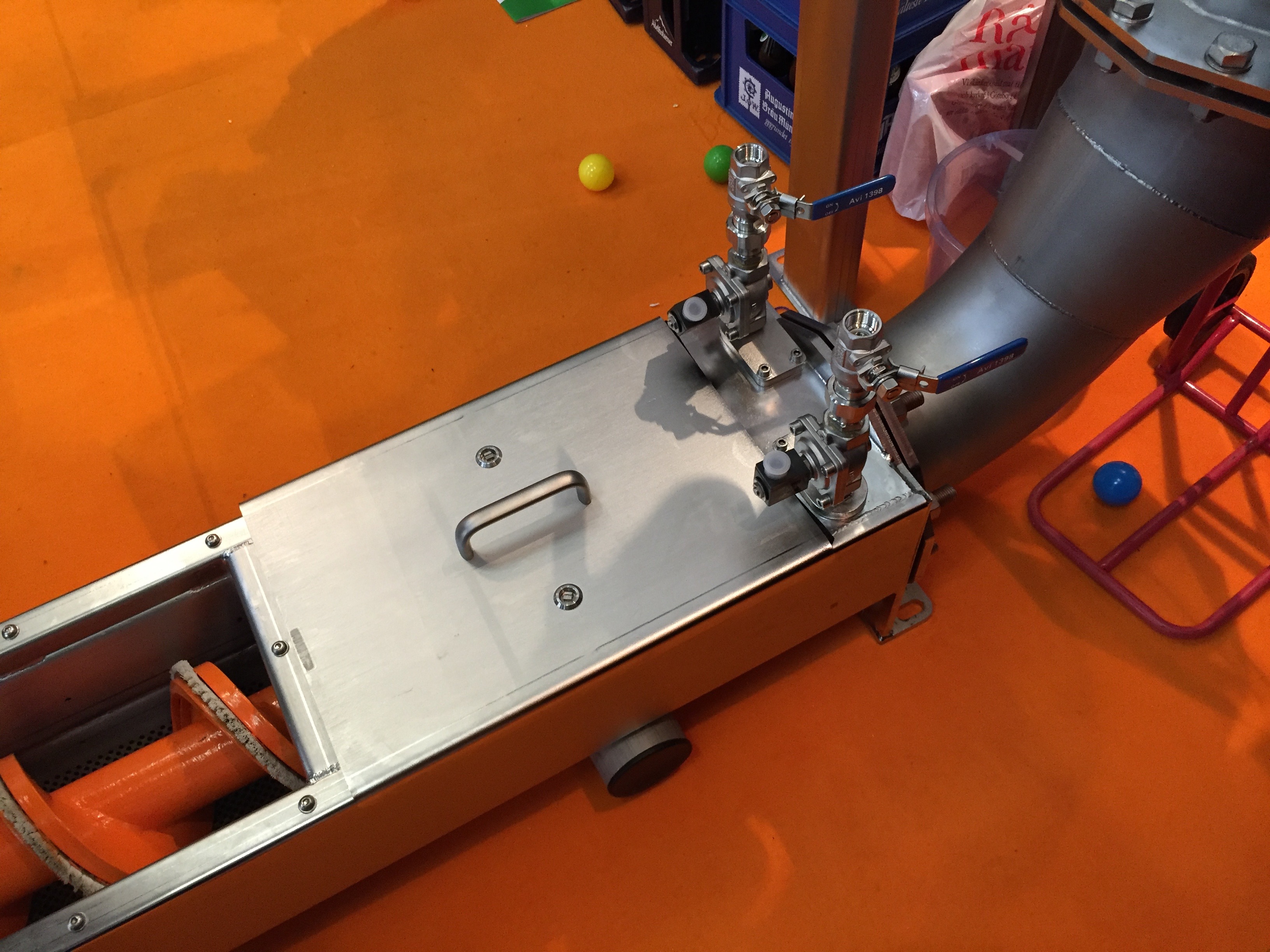 Easy top access to the outer trough. High quality stainless steel handles, lock and valves is standard on Andersson equipment. 3pcs big dia 100 drain outlets ensures good drainage. No need to dismount tray pans underneath, all is easy accessible from the top.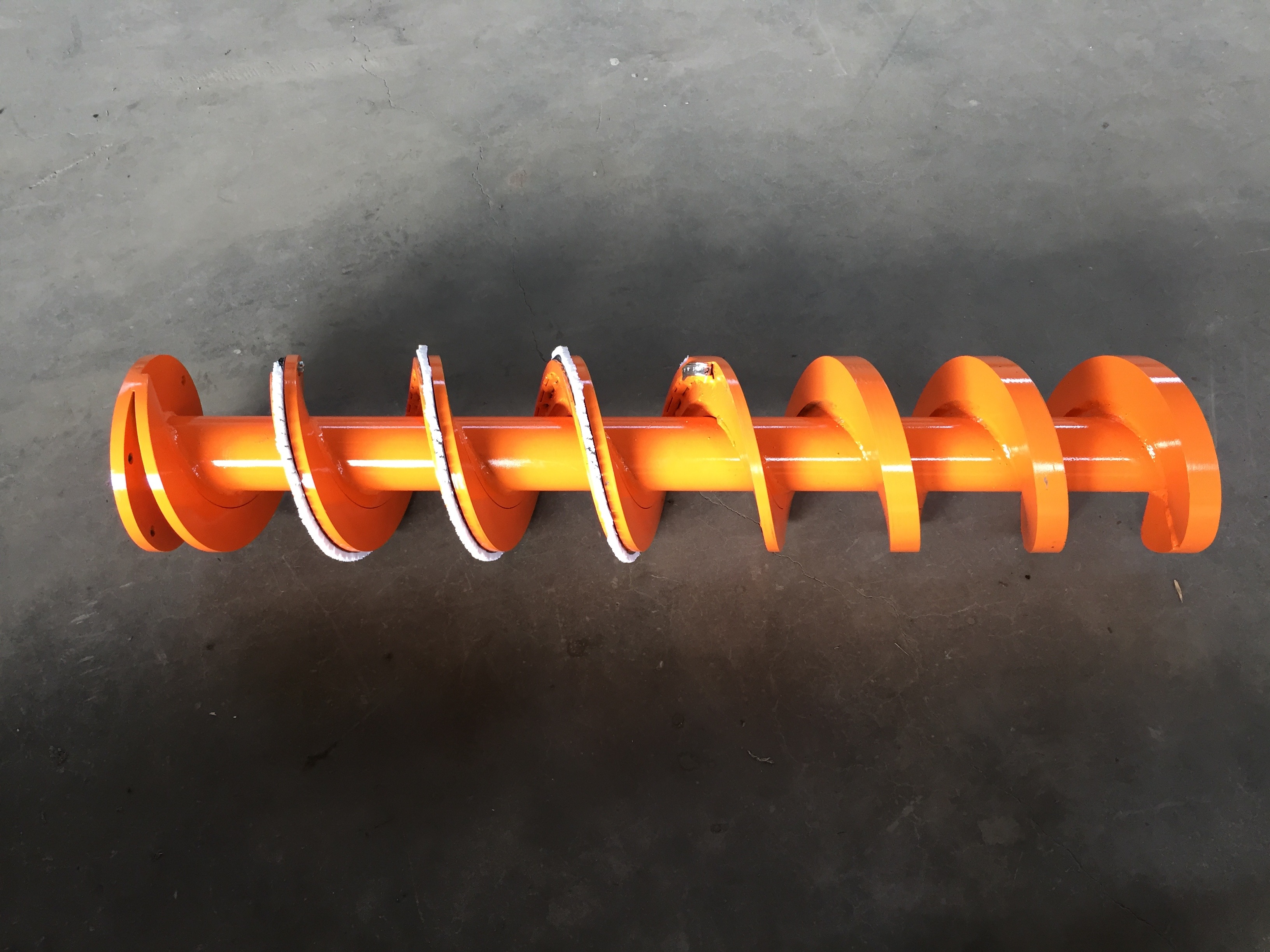 30-60mm thick double flighted compaction zone, S355J steels has superior strength and wear capabilities over stainless steels and is our preference. Stainless steel and segment welded screws are available as a lesser option than thick spiral wound screw. Flexible drive shaft coupling between screw and drive shaft absorbs angle variations to protect the gearbox.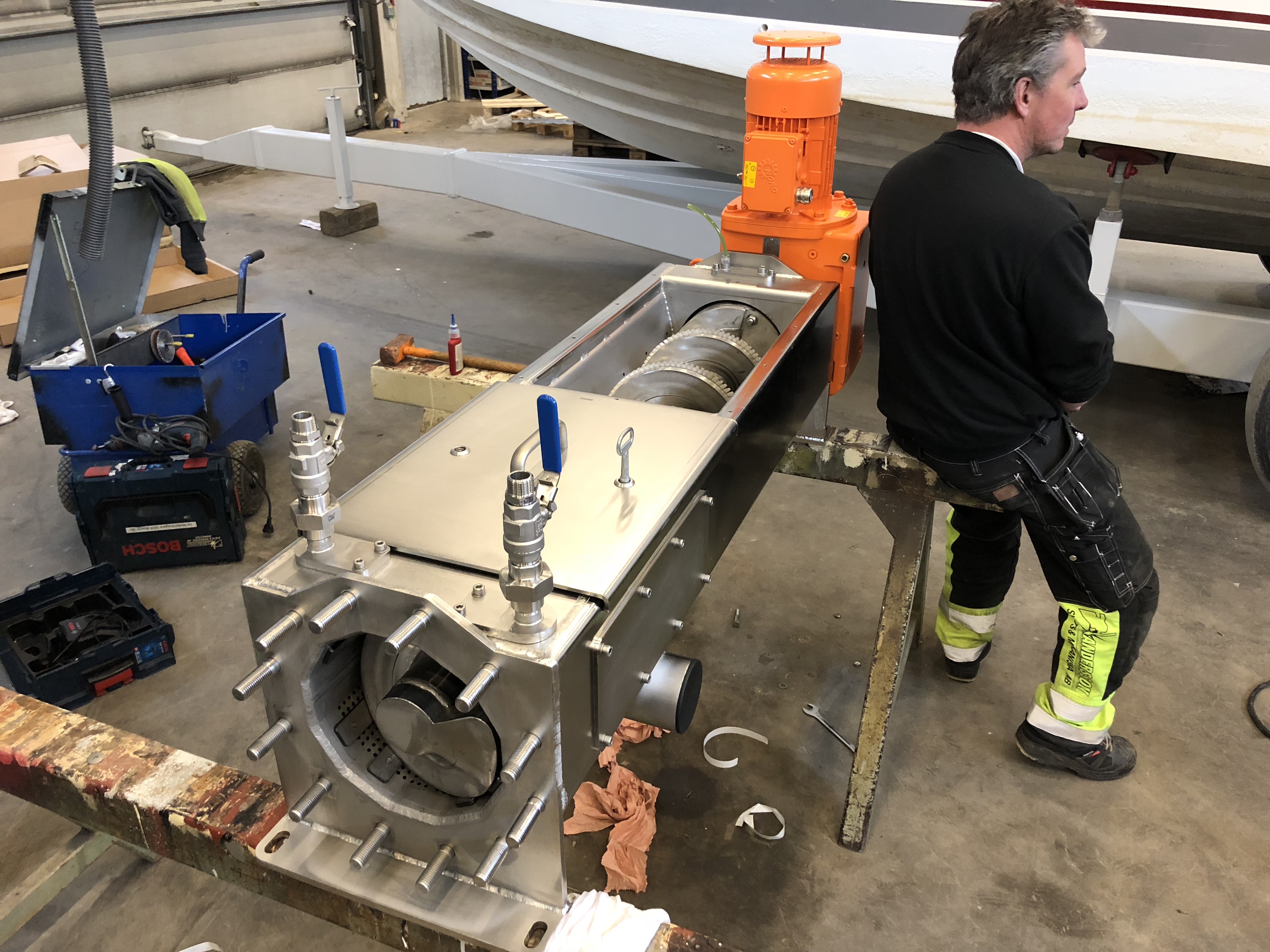 Double trough body. 12 sided dodecagon 5-8mm plate inner trough welded to 3-5mm outer trough. The double trough gives high torque and drain capabilities. Multiple screw fixed wear steel strips. Other makers use 3mm thin walled standard pipe single tube trough which in our opinion isn't strong enough and often only gives limited drainage via a bottom drain tray pan. The WPC outer trough has 3 drain outlets and allows much more effective perforations and drainage giving higher dewatering & compaction.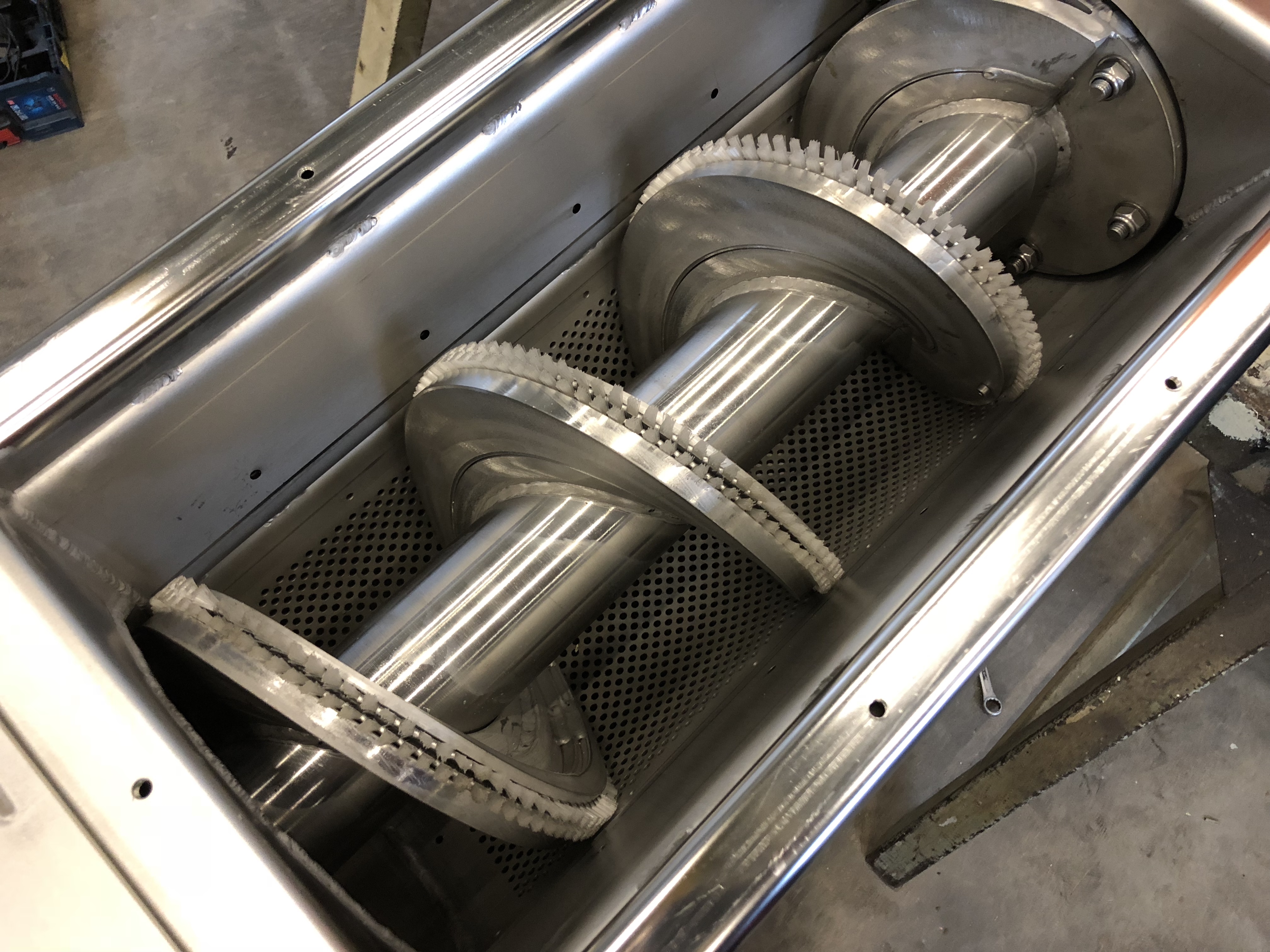 Fully perforated mechanically brushed 5-8mm thick inlet zone bottom perfo for optimum drainage, compaction and conveying. 30-60 mm thick compaction zone flighted screw spiral of high wear resistant high strength steel with stainless steel as lesser alternative. Full length backed industrial quality brush strip. No clamps that tangle up screenings! Competitors use only <10mm flight thickness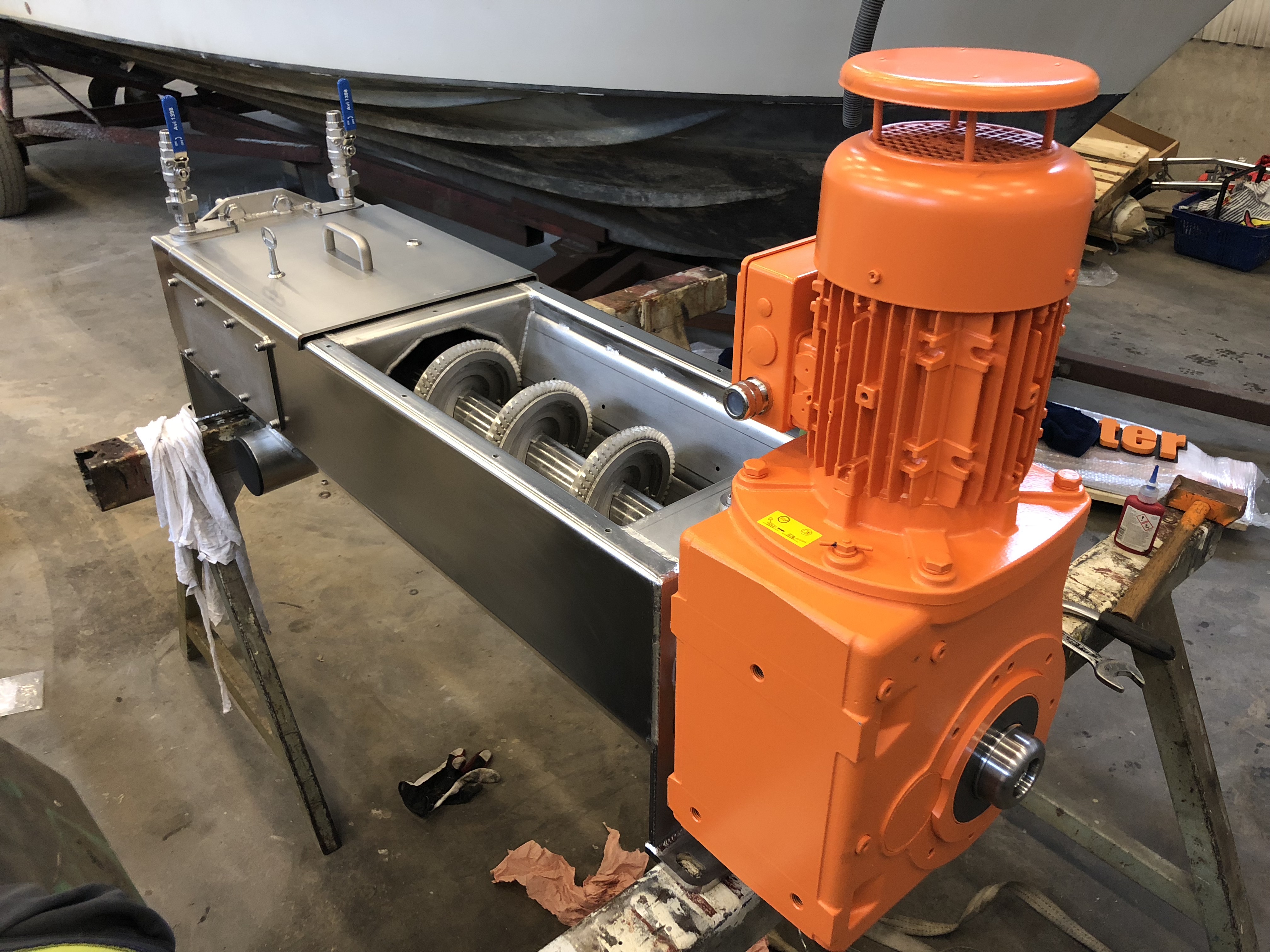 Screw drive end attached to flexible star coupling and massive automatically through greased thrust roller bearing. This protects the gearbox from radial and axial loads. The gearbox is mounted onto spacers to the drive end flange in order to note any shaft seal leaks in time to prevent gearbox damage.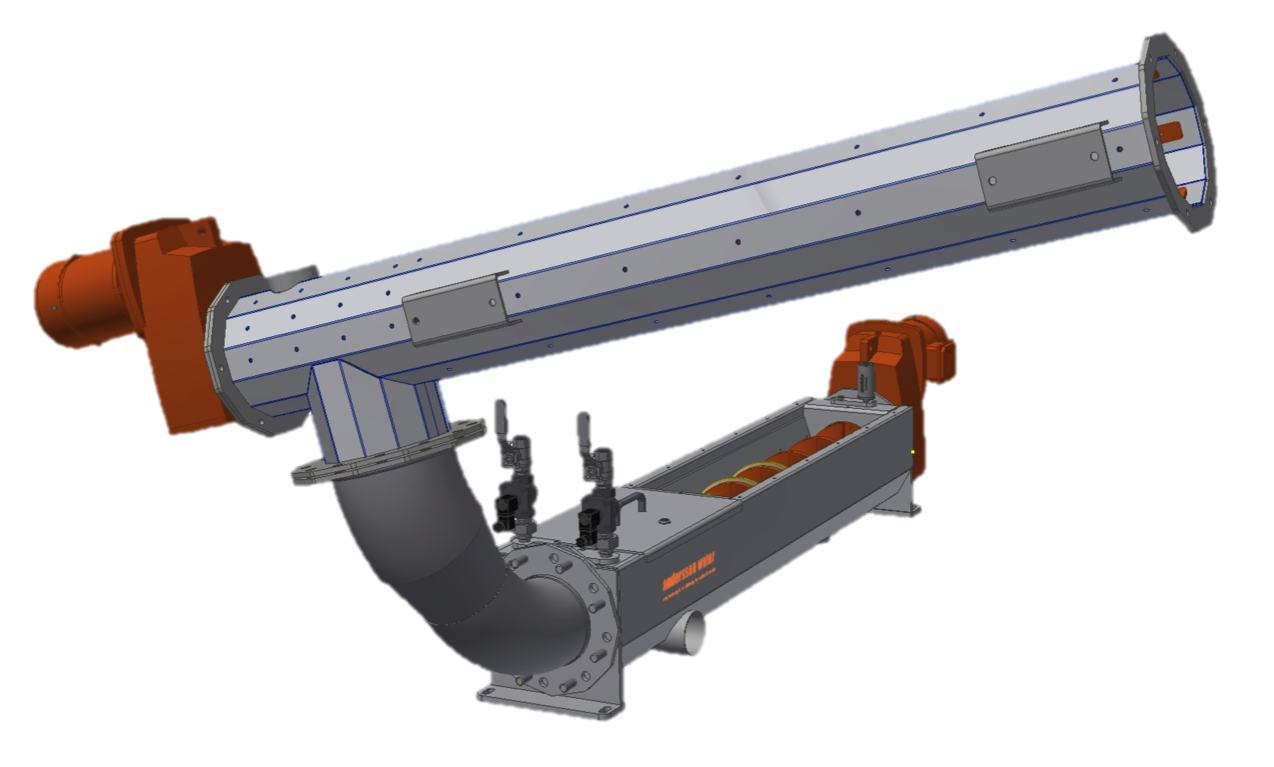 Wash Press Compactor WPC with optional Back Pressure Shredder BPS is the best screenings handling system on the market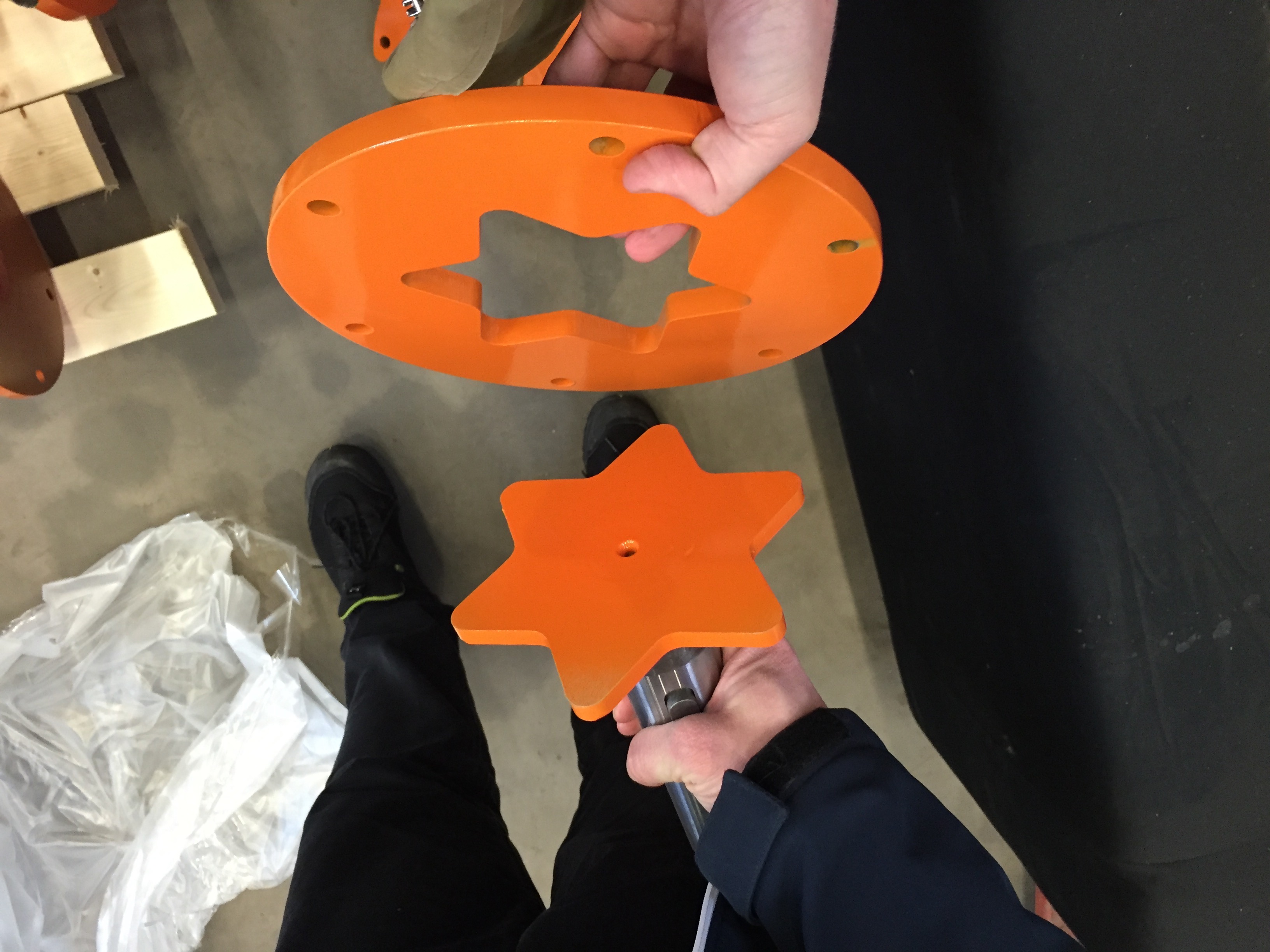 Thick corrosion and torque resistant flexible drive shaft star coupling absorb screw angle variations and protects the thrust bearing and gearbox. No stiff mounted screws breaking the gearbox when the screw is worn. No rusty chain couplings. No gearbox integrated thrust bearings which break the gearbox once bearing is worn.
High quality stainless steel solenoid and adjusting valves is standard on all Andersson equipment.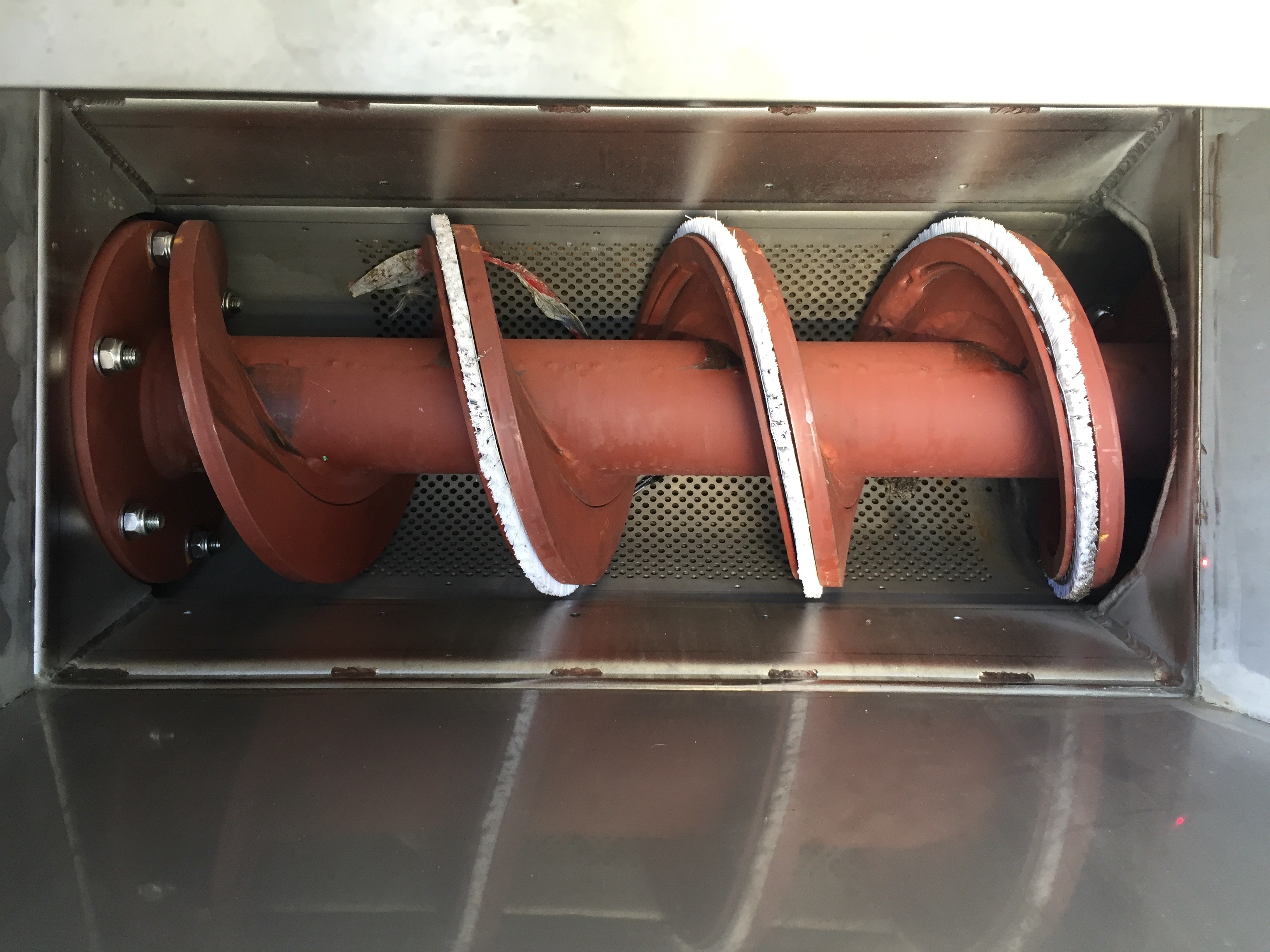 Fully perforated inlet bottom in 5-8mm plate and wear resistant S355J screw with peripheral brush as standard.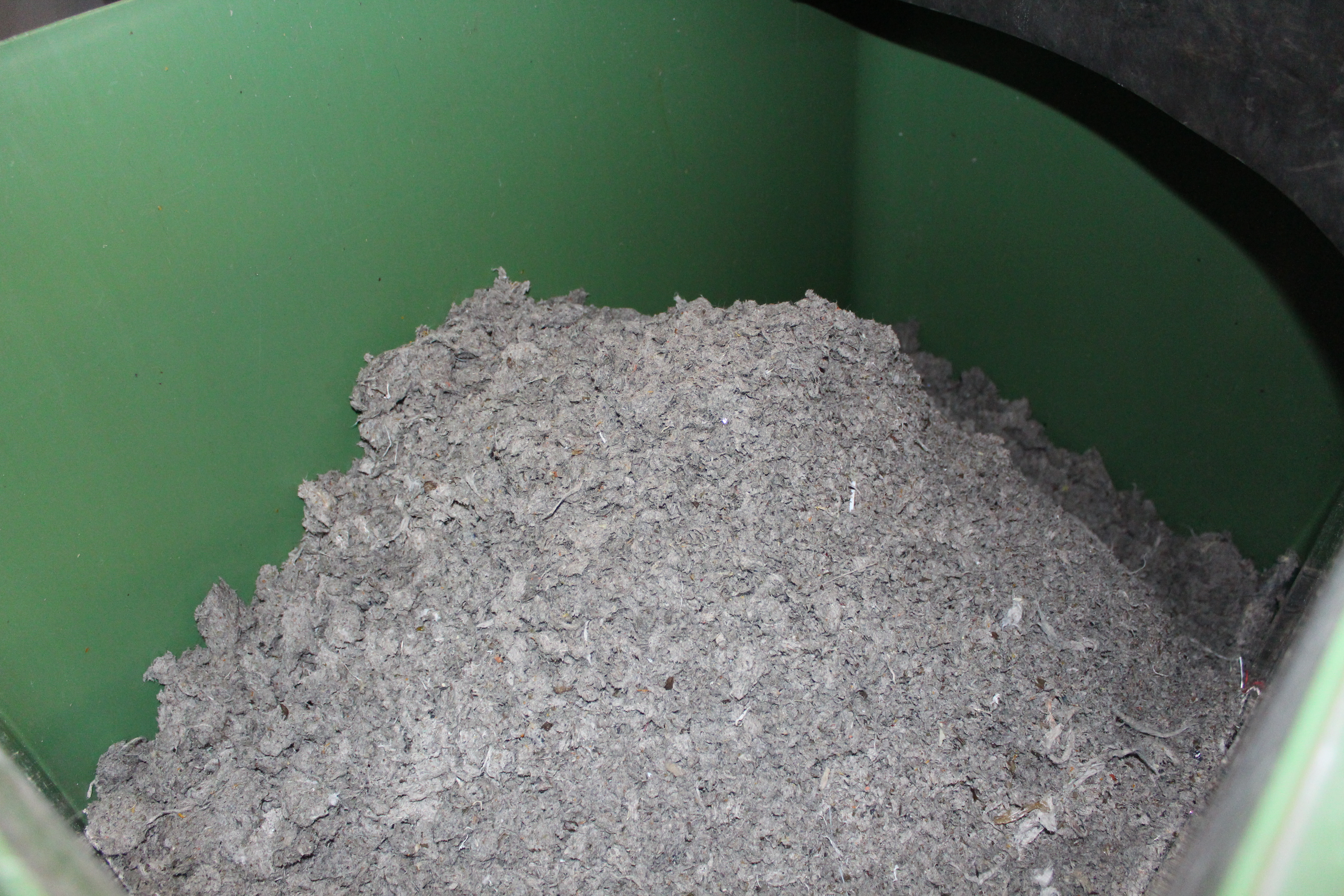 Washed, compacted and shredded screenings >45-55% dryness after WPC with BPS
Fully perforated inlet bottom in 5-8mm plate thickness. Thick strong non water absorbing high quality screw peripheral brush as standard. The inlet zone bottom perforation drainage capability is important since thats where most of the drainage is done.
Septic import sludge screenings compacted by Wash Press Compactor WPC after 3mm Stair Screen as Sludge Receiver SSR
WPC handles sludgy greasy septic import sludge screenings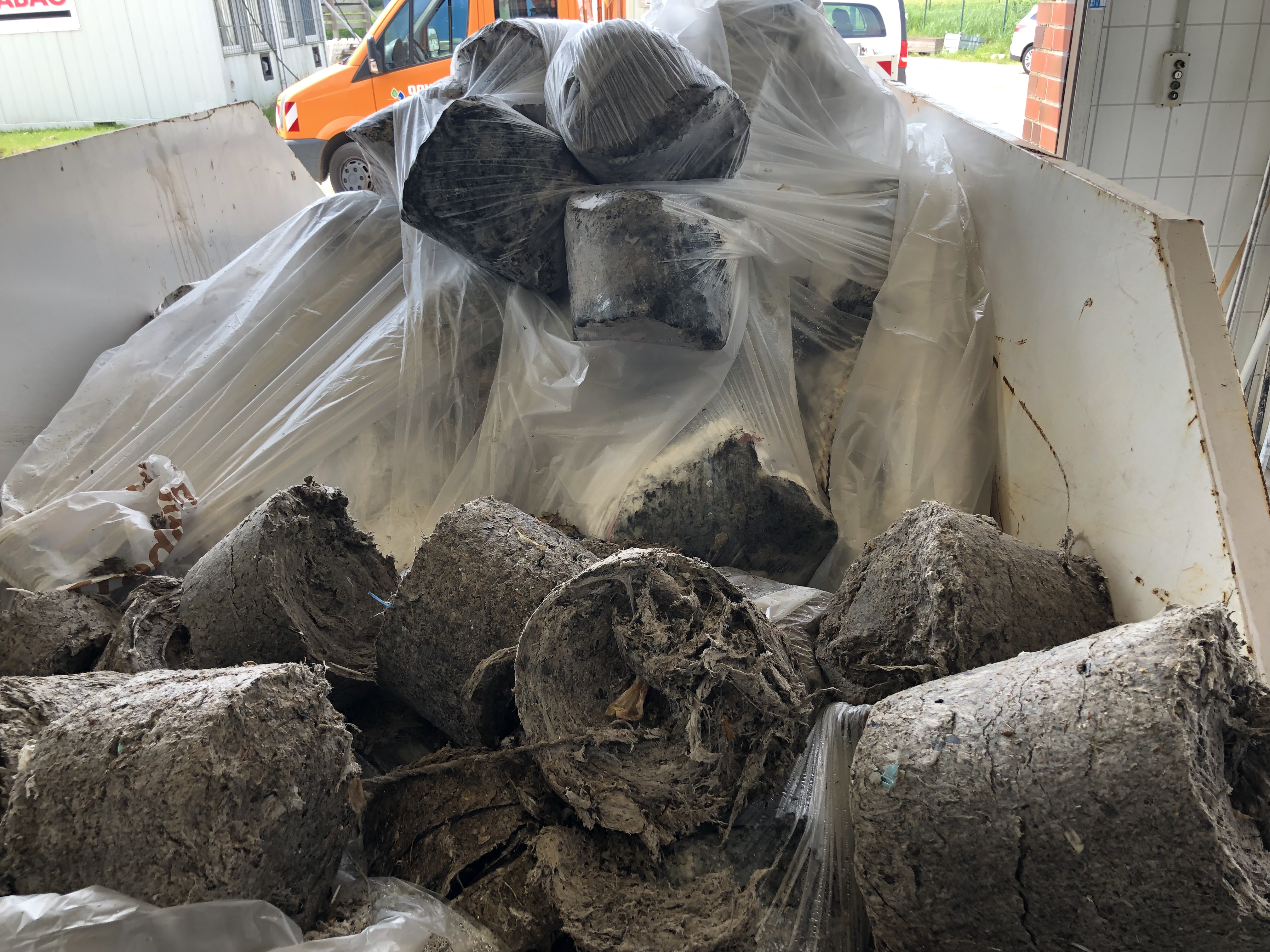 Screenings washed and compacted to 35-45% ds by Wash Press Compactor WPC after 3mm Stair Screen