Progressive Stair Screen PSS
Progressive Stair Screen PSS is the worlds strongest "progressive" step screen with the highest capture efficiency on the market
Several times stronger frame, bars, drive unit, transmission, bearings than others.
Modern easy maintenance construction from robust stainless high quality materials.
Totally self cleaning. No spraying or brushes.
Totally self aligned bars without rakes.
Easy replaceable strong bars and spacers.
Flexible mounting angle 35-45 degree.
Easy adapted hinged support legs enables quick pivoting out of the channel for service.
Enclosed, safe & hygienic with easy to open access doors.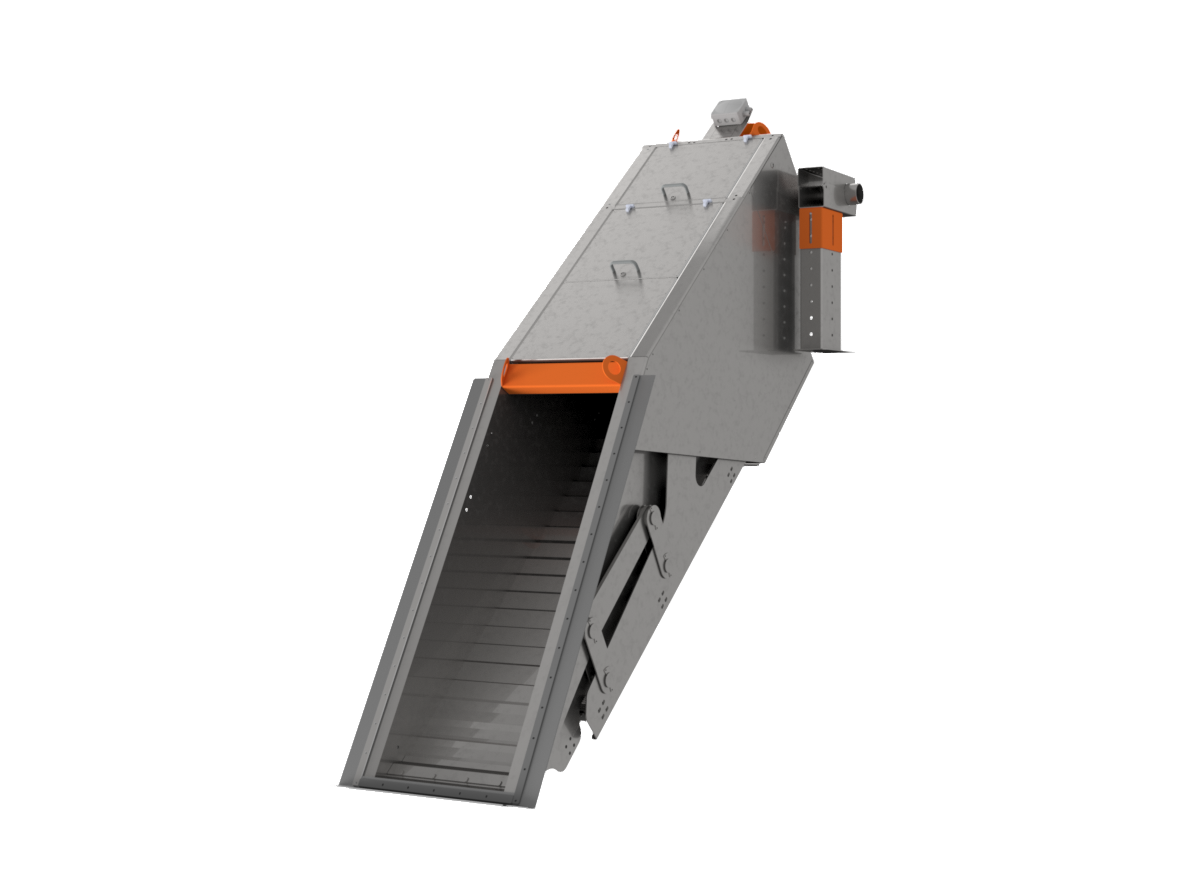 Progressive Stair Screen PSS is a mechanical "moving bar" fine screen that separates debrie and rubbish from water. Progressive Stair Screen PSS is a further development of the Andersson Stair Screen ASS concept where its progressive motion and progressive stair shape enhances the screenings capture. This is thanks to the PSS lower lifting motion under water which increases the mat support from the back during lifting which prevents screenings from being squeezed through during lifting. The lower lifting motion under water also gives the ability to seal the bottom step which prevents the rush of water through there during lifting. These 2 points enables >80-90% capture on a 1-3mm PSS.
Moving bar step type fine screens has unique capabilities: A 1-6mm Stair Screen can replace a 10-30mm coarse screen
in an existing open channel while maintaining the same low headloss, without any need for pre screening. Stair Screen is totally self cleaning without flushing or brushes. This gives unrivalled capacity, result and total economy.
We recommend PSS for all WWTP headworks with enough channel length to allow 45 deg screen inclination. And where the waterlevels are >800-1000mm. We generally recommend 2mm bar spacing for PSS at WWTP headworks. It is produced with up to 6mm bar spacing but thats generally a waste of separation and capacity capabilities since its rare that a 2mm PSS does not fit existing hydraulics and headworks situations.
At WWTP headworks where the waterlevels are shallow <800-1000mm and the channel length is short, then a 2mm 40-45 deg Progressive Stair Screen PSS may not be suitable. We then advice to use 3mm 50-55 deg Andersson Stair Screen ASS. For industrial applications and WWTPs with freestanding tanks we generally recommend 1-2mm Progressive Stair Screen PSS.
Specifications
Discharge height 700-7000mm
Width 200-2500mm
Bar spacing 1, 2, 3, 6mm
Capacity 10-10000l/s
Gallery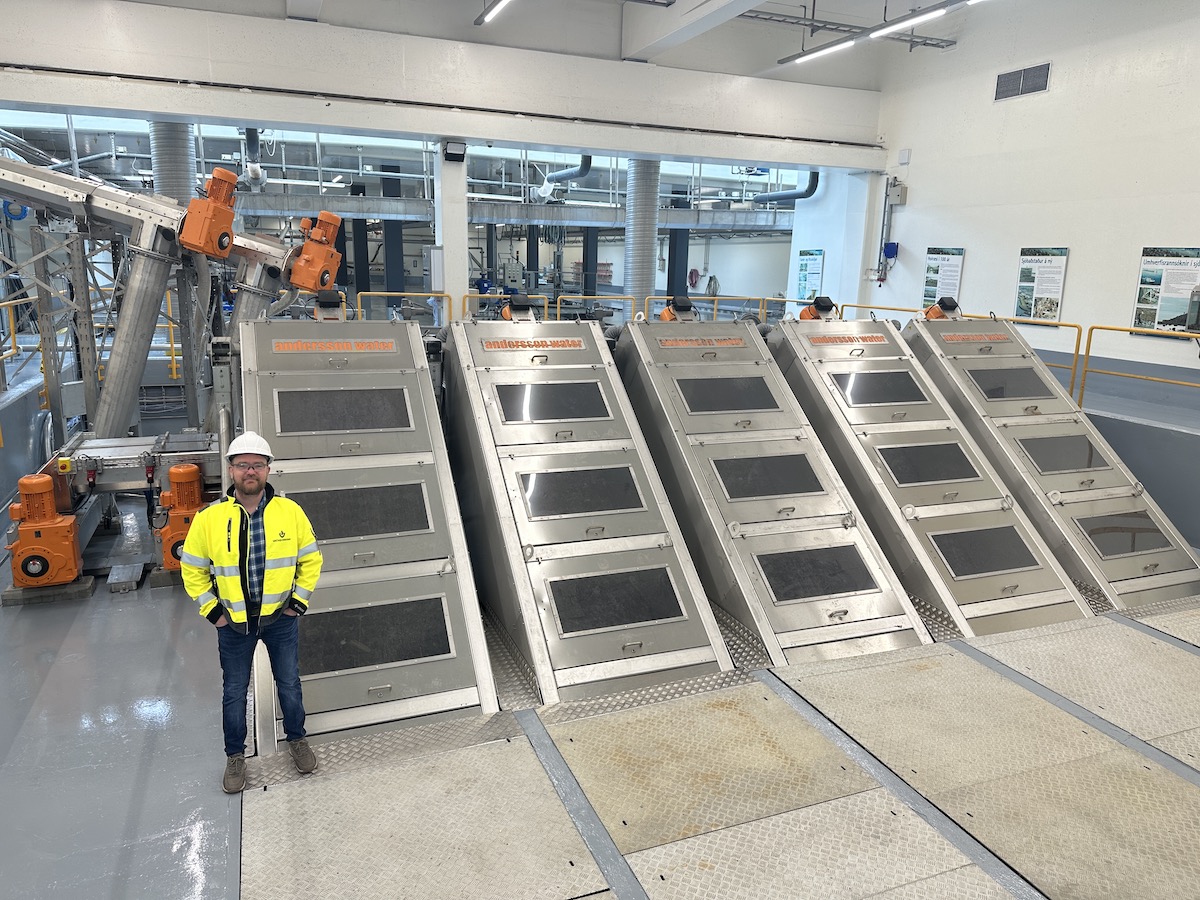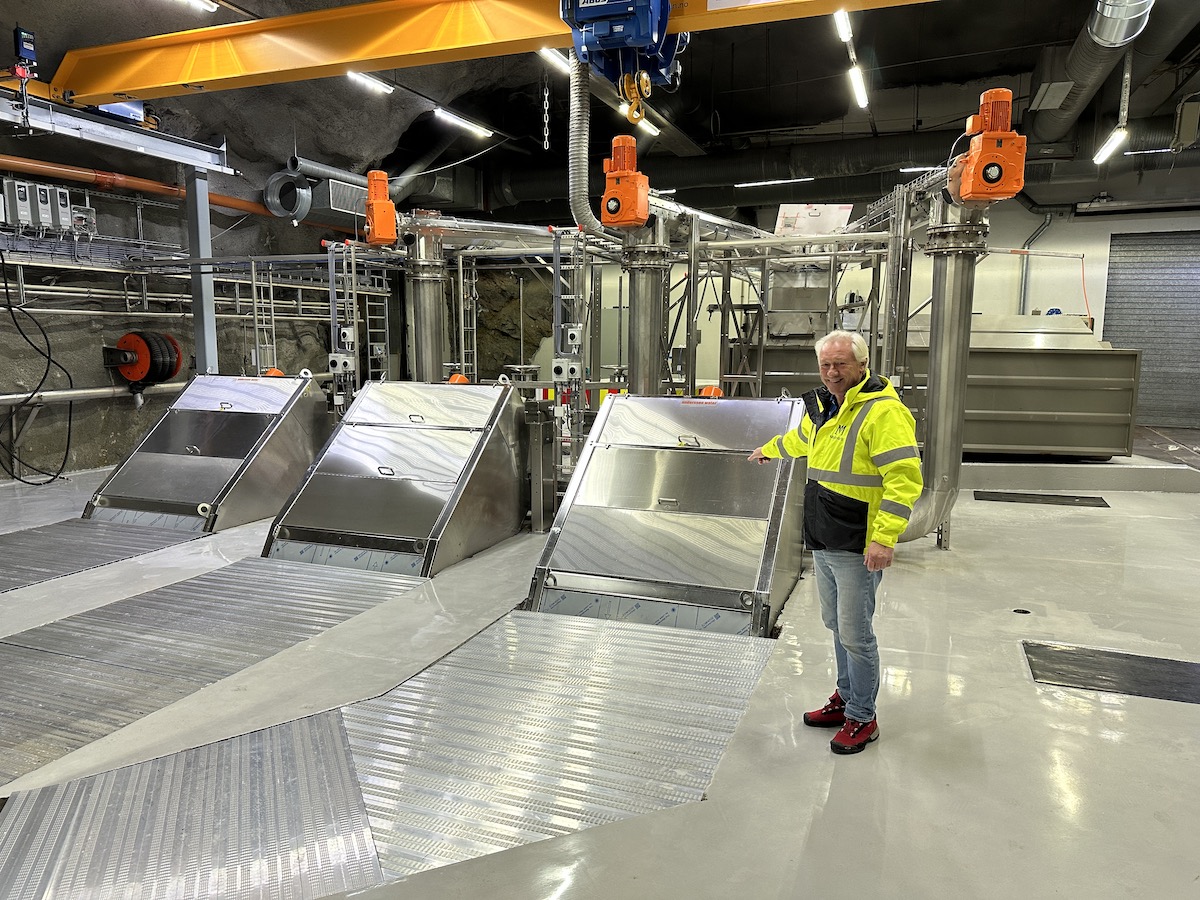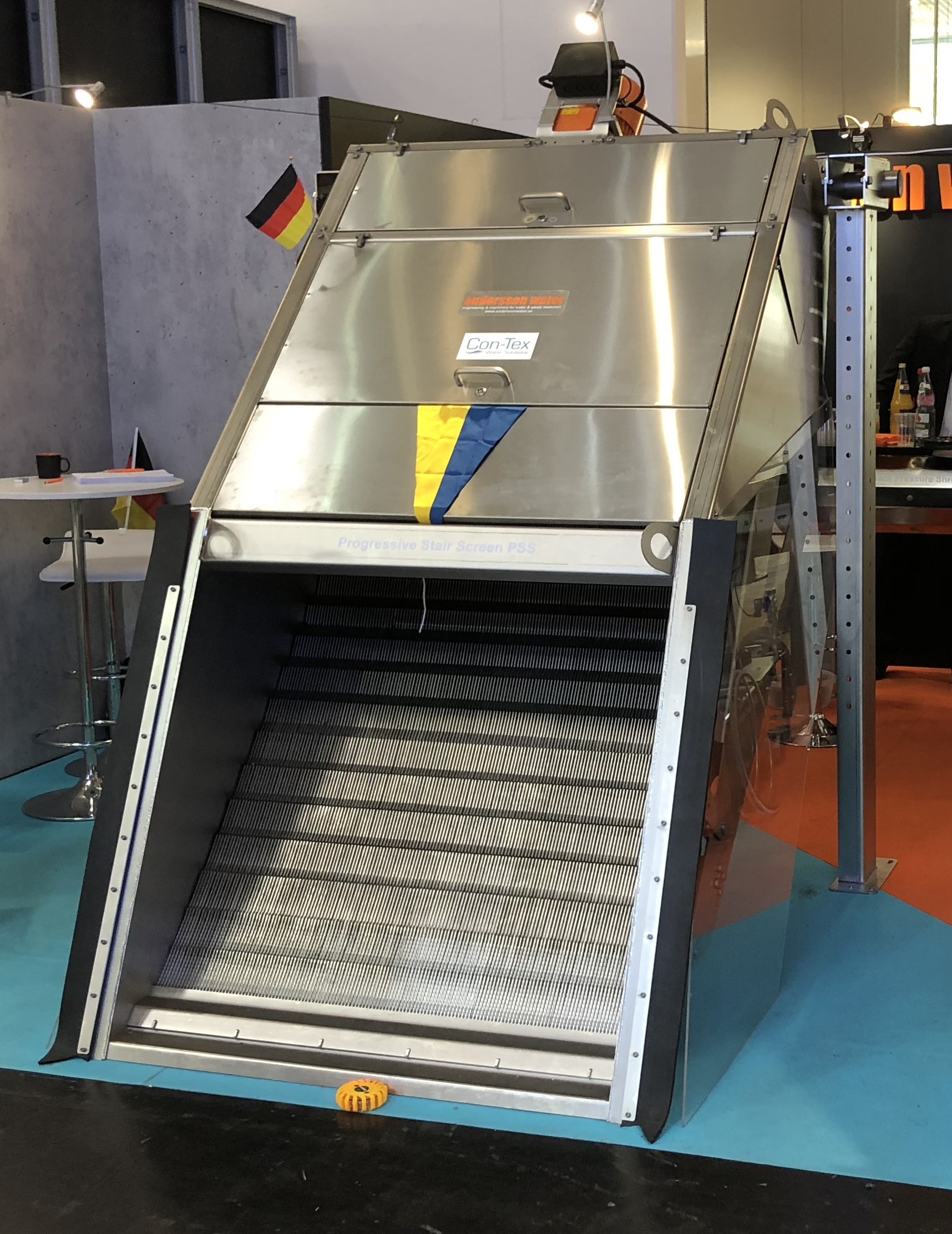 Stair Screen has the highest capacity and lowest maintenance of any fine screen. Stair Screen has easy to open hinged covers. Superior stainless steel surface treatment by full bath pickling passivation followed by electropolishing
Stair screen is the only 1-6mm screen that can handle 0.5-1m/s in an existing open channel designed for coarse screens. This makes stair screen the only fine screen technology that can replace any fine or coarse screen installed since >50-100 years! Fixed bar rake screens <30mm as well as perforated screens <6-10mm are often replaced by 1-6mm Stair Screens for increased efficiency and less maintenance.
Our production has since >20 years built several thousands! step screens delivered and installed over the world. The Progressive Stair Screen PSS is sprung out of that experience and is the worlds strongest progressive step screen. Stair Screen weighs 50-100% more than any other screen technology. The constantly interleaved bar sets makes the bars support each other all the time giving a very strong and sturdy screen surface with 25-67% wet area at 1-6mm bar spacing. Even 1-2mm bar spacing is possible at headworks and greasy industries without clogging, flushing or rake misalignment issues. The stair screen gathered wear surface is huge in comparison with perforated plate screens!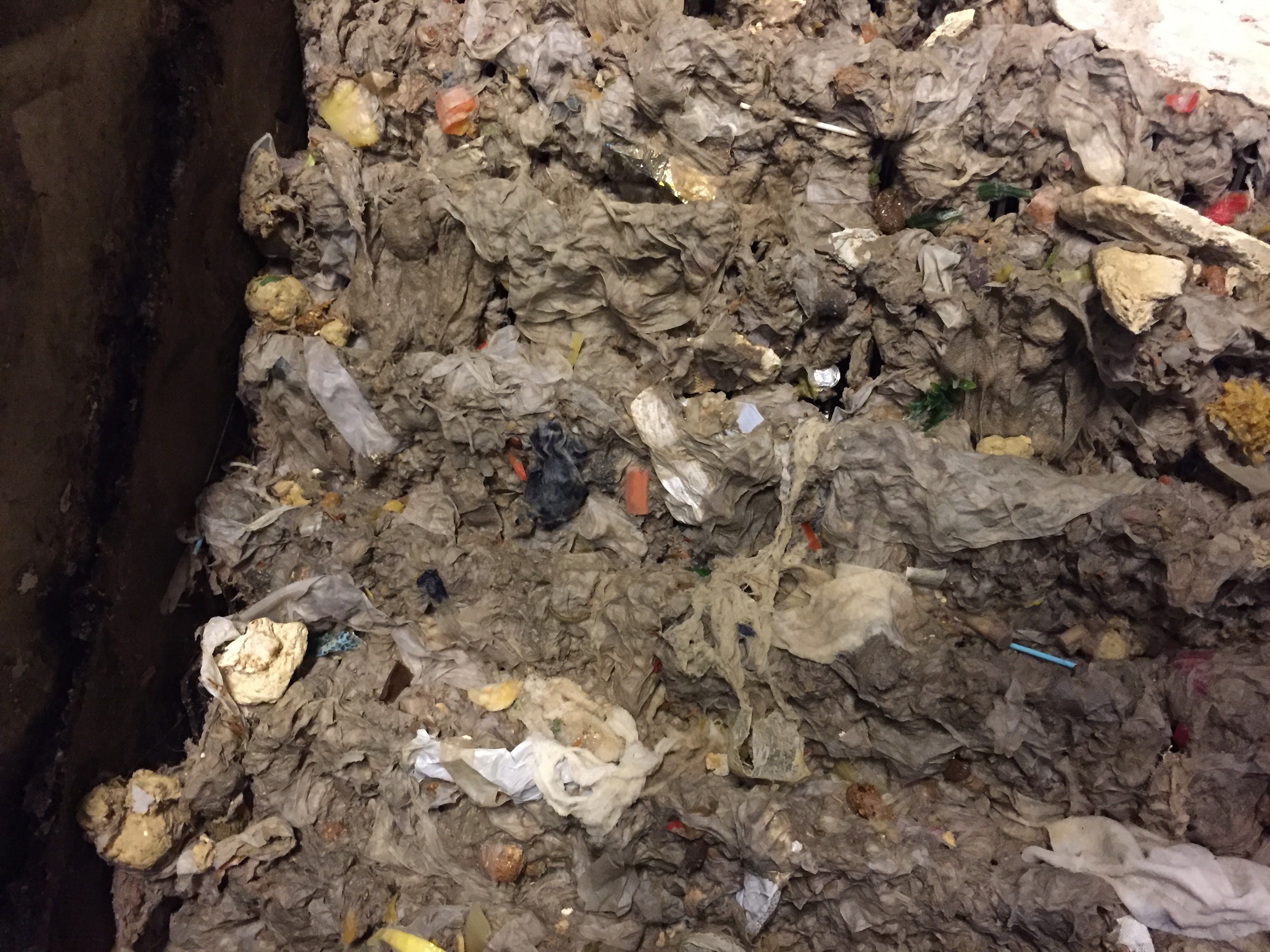 Stair screens works step by step with an active pre coat layer "mat" of screenings. The step by step level and mat control gives stair screens much higher separation than other bar slot screens. Stair screens are totally self cleaning and likes grease. No brushing no flushing. Stair screens are level controlled to work intermediate step by step with an active pre coat mat of screenings. With mat a capture of 80-90% is achieved at 1-3mm bar spacing compared to up to 40% on fixed bar rake screens or slot screens. This gives huge savings in maintenance in the following process. The step by step mat level control gives stair screen an effective operation time of only around 5-10% which makes stair screens very energy efficient and extremely low on mechanical maintenance compared with perforated screens and rake screens that often operate 40-80% of the time and have much more moving wear part such as chains, sprockets, brushes, scrapers, seals, panels and unhygienic flushing and spraying causing unhealthy aerosols. Perforated screens often require 50-100m3/day/each of spray water! Thats a cost of approx 20 000-40 000 euro per year! A huge operation cost and waste of resources! Independent tests has been performed on 3mm step screens with right control and screenings pre coat mat to verify their capture rate of 80% acc to international screen evaluation methods. Its important that step screens are operated with step by step level control and precoat mat. Running them on timer or crude level control will cause poor results. Unfortunately this faulty control has caused poor results on step screens in some SCR tests and is unfortunately the way many step screens around the world are operated. Step by step level precoat mat control is essential. PSS progressive step shape increases the mat back support during lifting which enhances screenings capture compared to conventional step screens.
1mm 40-45 deg Progressive Stair Screen PSS to the left. 3mm 50-55 deg Andersson Stair Screen ASS to the right.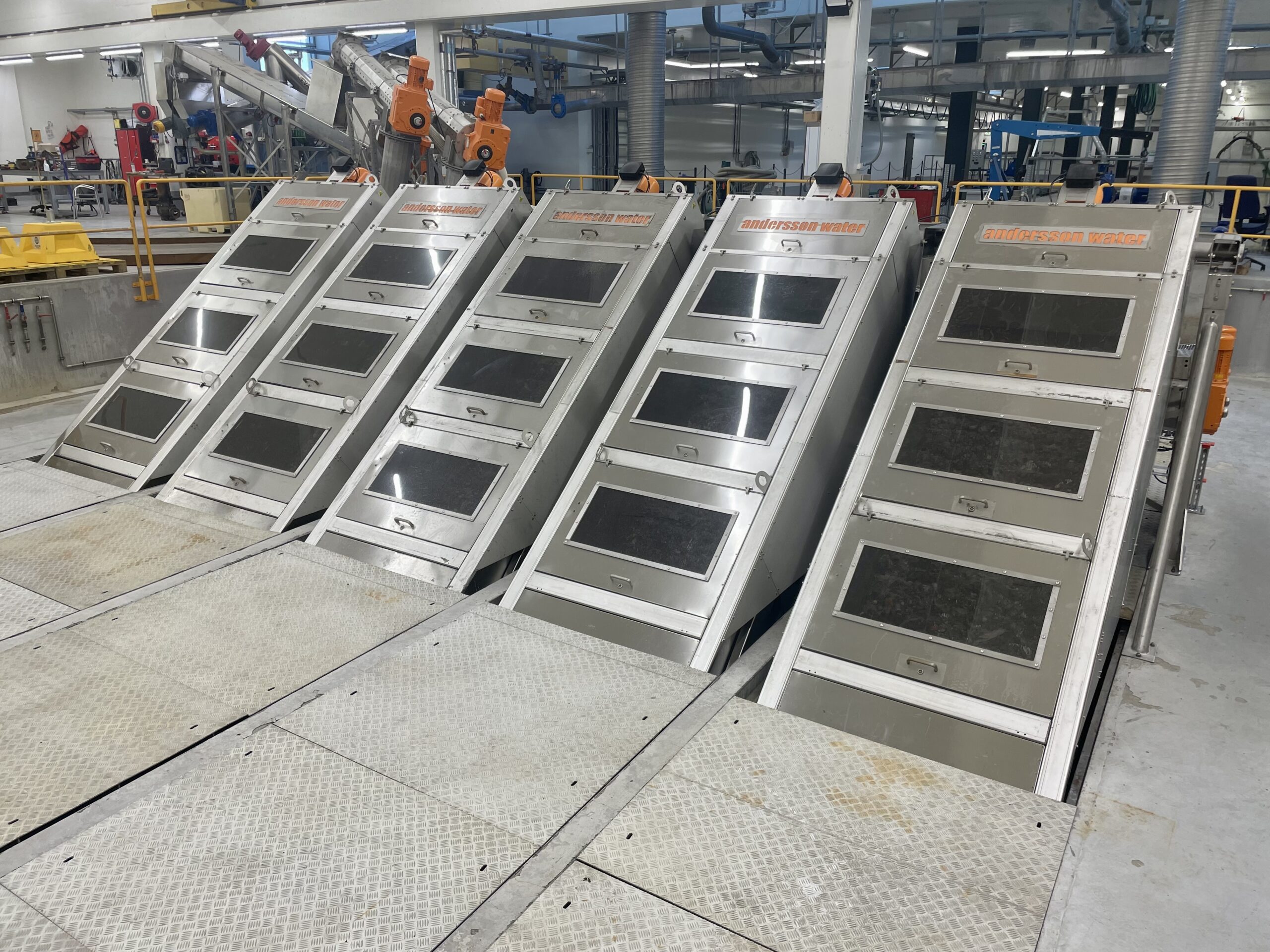 5pcs 3mm Progressive Stair Screen PSS for 1400l/s each and >80% capture replacing 3mm traditional step screens <50% capture in existing high velocity >0.7-0.9m/s low head <300mm channels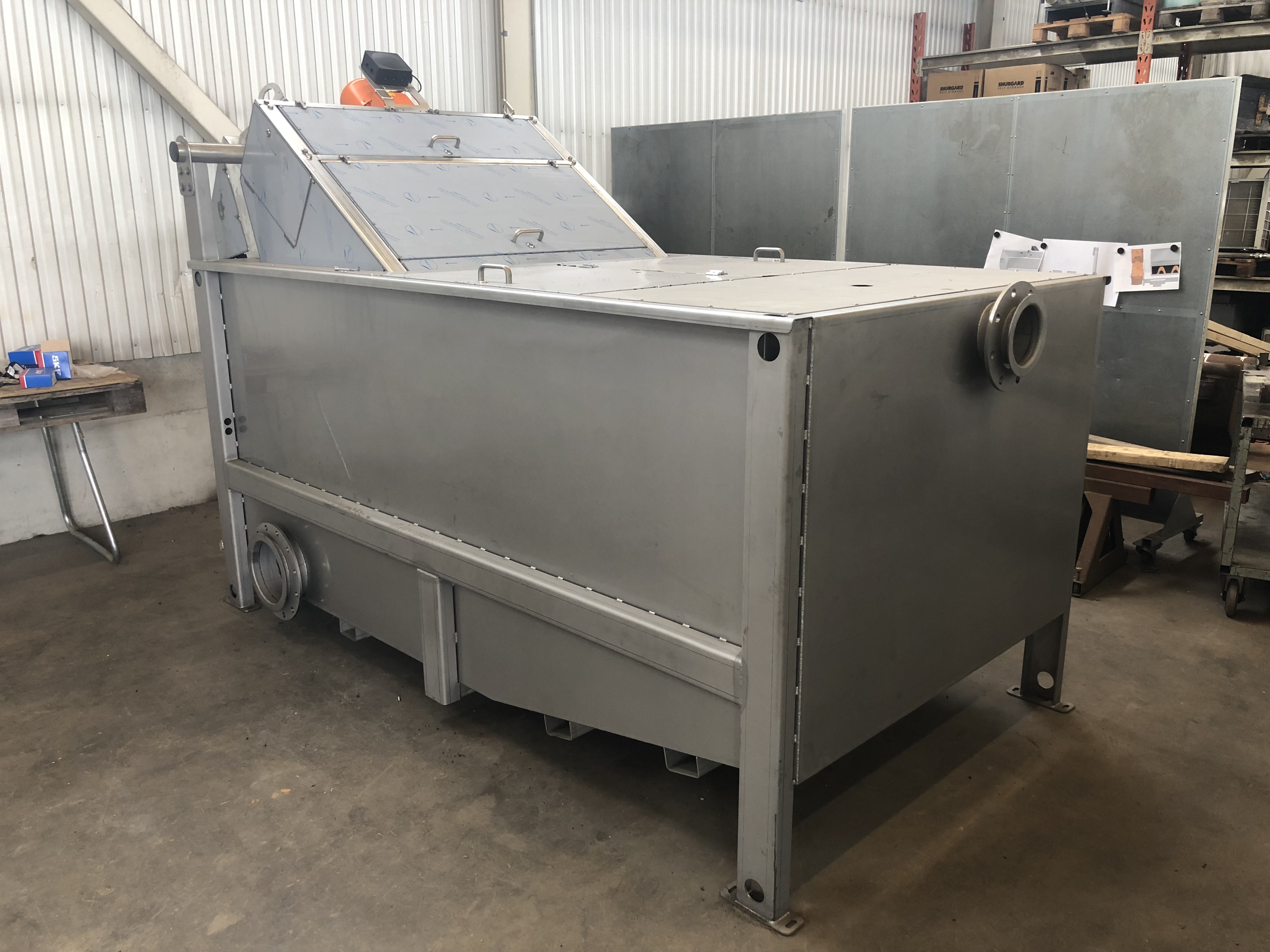 Stair Screens 1-6mm in freestanding tanks for 10-500l/s with optional compactor
1mm PSS in duck slaughter waste before DAF flotation. PSS works step by step with the active mat and is totally selfcleaning, no spraying no brushing.
1mm PSS at pig slaughter waste. PSS works step by step with the active mat and is totally selfcleaning, no spraying no brushing. The lower progressive step motion increases the back support of the screenings precoat mat. This decreases screenings being pushed through during stepping motion and gives >80-90% capture on a 1-3mm PSS.
Progressive Stair Screen PSS next to Andersson Stair Screen ASS at IFAT 2018. We recommend 1-2mm PSS whenever possible and 3mm ASS in cases where PSS may not feasable due to short channel length and shallow water depth <800-1000mm.
Stair Screen bar sets and surface is like a massive block of stainless steel. No coarse pre screening needed upstreams. A whole screen stage can be saved! A <3mm stair screen with 3mm bars has higher capacity and capture than a 6mm rake screen with 6mm bars or a perforated 6mm hole screen. Stair screen is totally selfcleaning without any chains, rakes, brushes, spray water! This is enabled by constantly interleaved bars that support eachother and much higher/deeper bar section height/depth (approx 100mm) compared to conventional rake screen bars (approx 40-50mm) and many more tightly spaced self cleaned rear cross beams carrying the bars on the backside and tightly spaced bar spacers along the bars length.
Stair Screen explained at WWTP
Active screenings mat pre coat multiplies the capture effect and gives a 3mm stair screen 80% capture which is comparable with perforated screens. Although stair screen has much higher capacity and reliability. Stair screens of 1-2mm will work fine in any wwtp headworks channel if the hydraulics allow for it. Stair screens is totally self cleaning and do not clog even at <1mm bar spacing. In fact most of the greasiest applications are 1mm bar spacing at slaughteries, poultries, fish industry replacing 1-2mm perforated screens that cannot handle grease. Step screens like grease!
Self cleaning automatic discharge by the stepping motion. No need for scrapers, brushes or spraying. Easy open covers. Quiet, silent without splattering or unhealthy aerosols. No clogging of shafts or discharge mechanisms
Stair screens high throughput area is practically without permanent clogging rate. This enables 1-3mm stair screen to stay still 90-95% of the time and work intermittent. This enables formation of the active screenings mat. Constantly interleaved self supporting bar sets with tightly spaced rear cross beams and bar spacers makes stair screen stronger than screens with thicker bars!
2mm PSS replacing 3mm traditional step screens